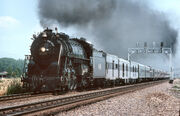 St. Louis Southwestern #819

Built

1943

Class

L1

Configuration

4-8-4

Retired

1955

Disposition

Out of Service
The St. Louis Southwestern #819 is a preserved 4-8-4.
The engine was built in 1943 by the railroad's Pine Bluff Shops. It was one of the last steam engines to be built on the "Cotton Belt Route", and the last to be retired (1955). The engine was donated to Pine Bluff, Arkansas as a token of the SSW's appreciation towards the city.
In 1983, after years of detoriation, the engine returned to the Cotton Belt shops to be restored. It was successful, and in 1986 the engine left the shop for excursions.
In 2001, the engine was again retired for inspection, which is apparantly still going on.