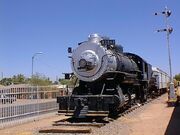 Southern Pacific #2562

Built

1906

Class

C-9

Configuration

2-8-0

Retired

1956

Disposition

Static Display
Southern Pacific #2562 is a preserved SP Consolidation.
2562 was built by the Baldwin Locomotive Works in 1906 as part of the SP C-9 Class. The engine was used as a freight engine and worked in California until dieselization in 1956.
The engine was saved by the city of Chandler, Arizona whom wanted a steam locomotive for static display. After negotiations, the engine arrived in the city to a huge crowd. But sadly, the engine gradually detoriated after it was moved to a park, and it was nearly scrapped.
In 1983, the newly-founded Arizona Railway Musueum decided to purchase the engine and have it cosmetically restored so it could avoid scrapping. The restoration was a success, and the engine is currently displayed proudly at the Arizona Railway Museum.