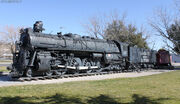 Atchison, Topeka & Santa Fe #3759

Built

1928

Class

3751

Configuration

4-8-4

Retired

1953, 1955

Disposition

Static Display
The Atchison, Topeka & Santa Fe #3759 is the surviving sister engine to #3751.
The 3759 was built in 1928 by the Baldwin Locomotive Works after the 3751's initial success. The engine had a normal career, and was retired in 1953. But in 1955, the engine was temporarilly operational for a "Farewell to Steam" program, making it the last steam locomotive operational on the Santa Fe. After that, it was donated to Kingman, Arizona for display, where it still resides.